Unlock business focused WooCommerce exports
Single site
$99.00 / year
$49.50 savings (50% off*)
1 site
Single Store
Plugin Updates
Premium Support
Get Started →
Unlimited
$199.00 / year
$99.50 savings (50% off*)
Unlimited sites
Unlimited Stores
Plugin Updates
Premium Support
Get Started →
You are fully protected by our 14-day money back guarantee. All prices in USD. Special introductory pricing, all renewals are at full price.
Export store details to Excel or XML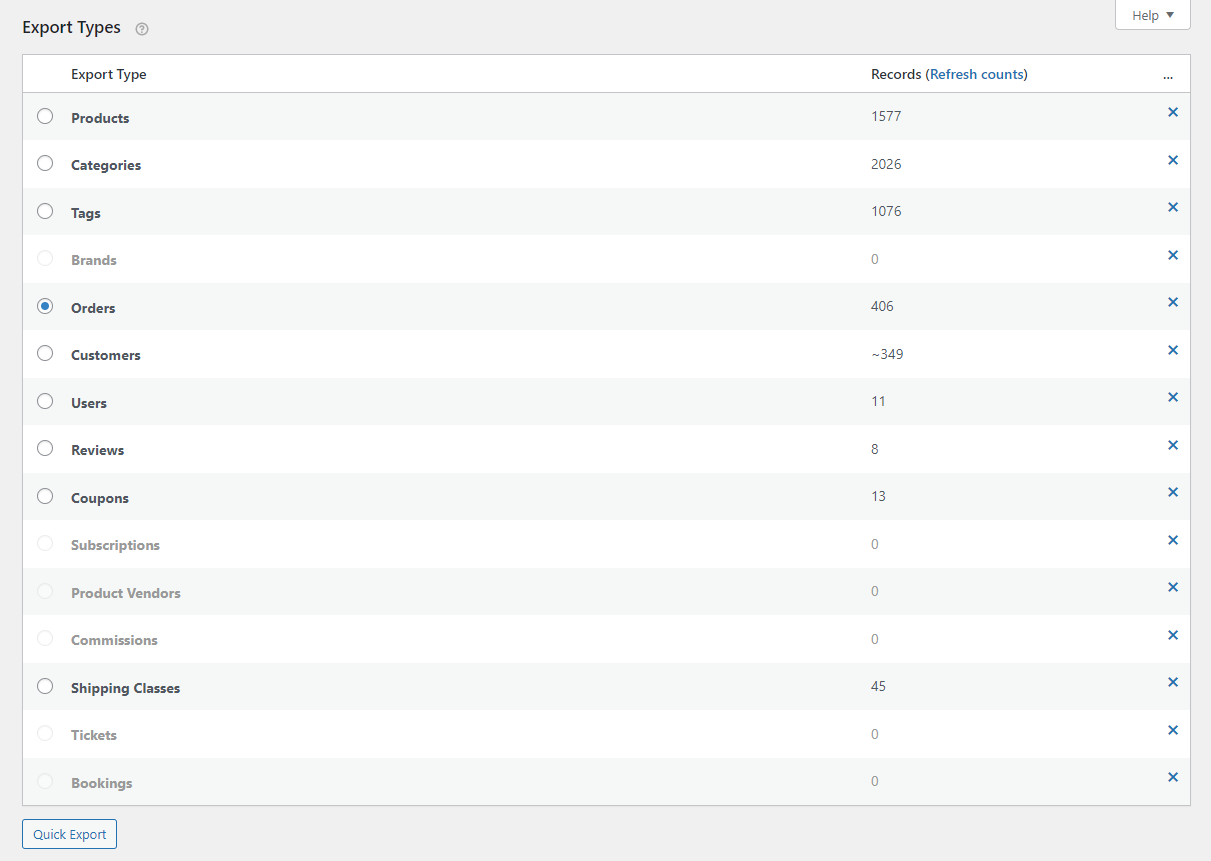 Concise, ready to use Product, Order and Subscription exports are just a Quick Export away.
Automated Smart Exporting for WooCommerce
Store Exporter Deluxe makes scheduled exporting in WooCommerce simple.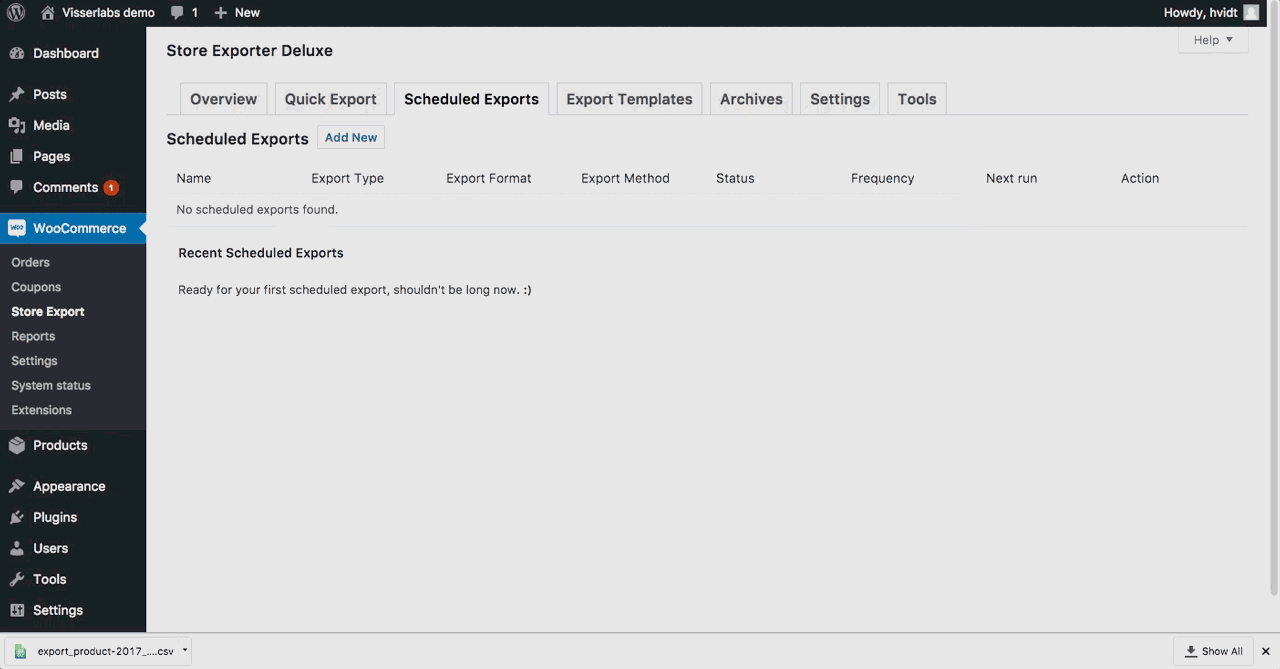 Automate WooCommerce exports, save locally, to FTP/SFTP or Cloud Services
Schedule exports to suit your needs.
as e-mail attachments
saved securely to your WordPress Media
saved outside the WordPress Media directory
saved to a fixed filepath
upload exports directly remote FTP/SFTP/FTPS servers
POST to cloud service endpoints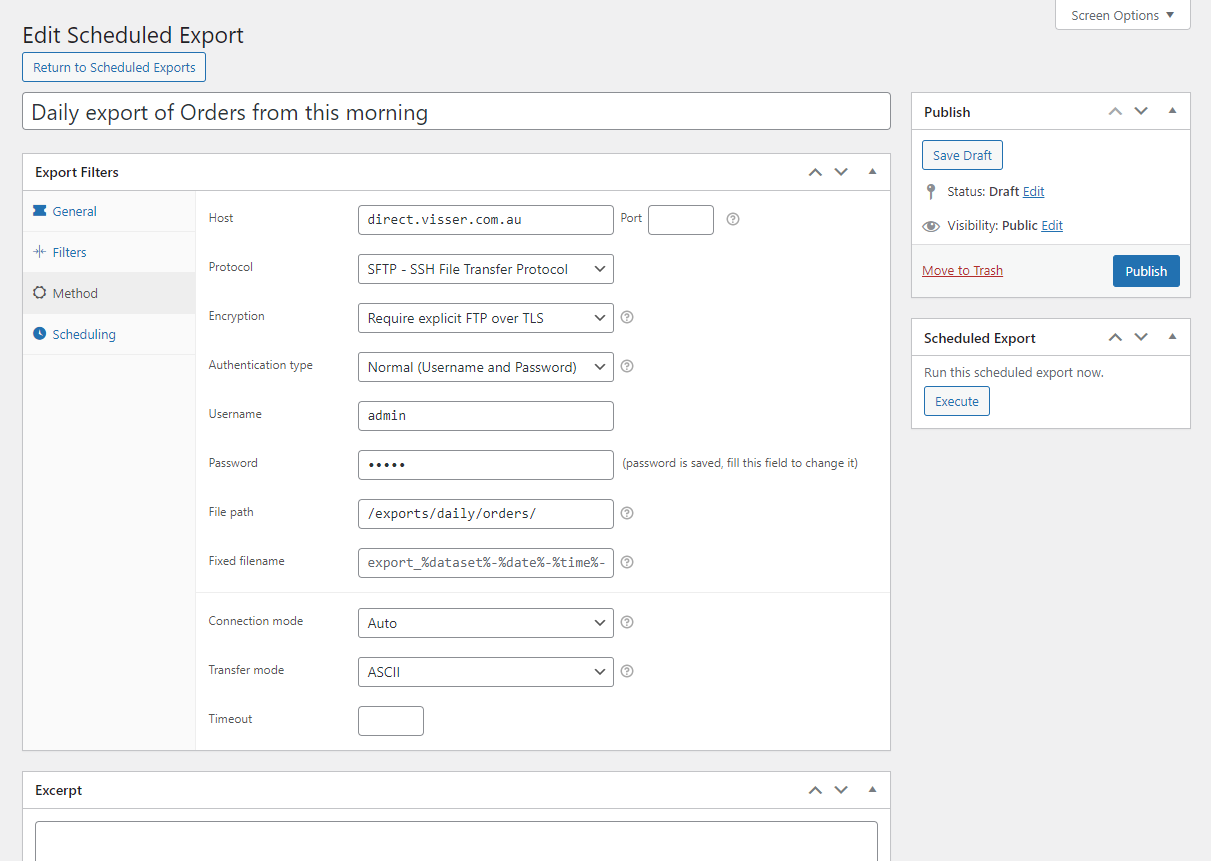 Export WooCommerce data to CSV, TSV, XLS, XLSX, XML
Exports WooCommerce data into files which can easily integrate with accounting software, Google Sheets, Excel or any software that uses industry standard file types.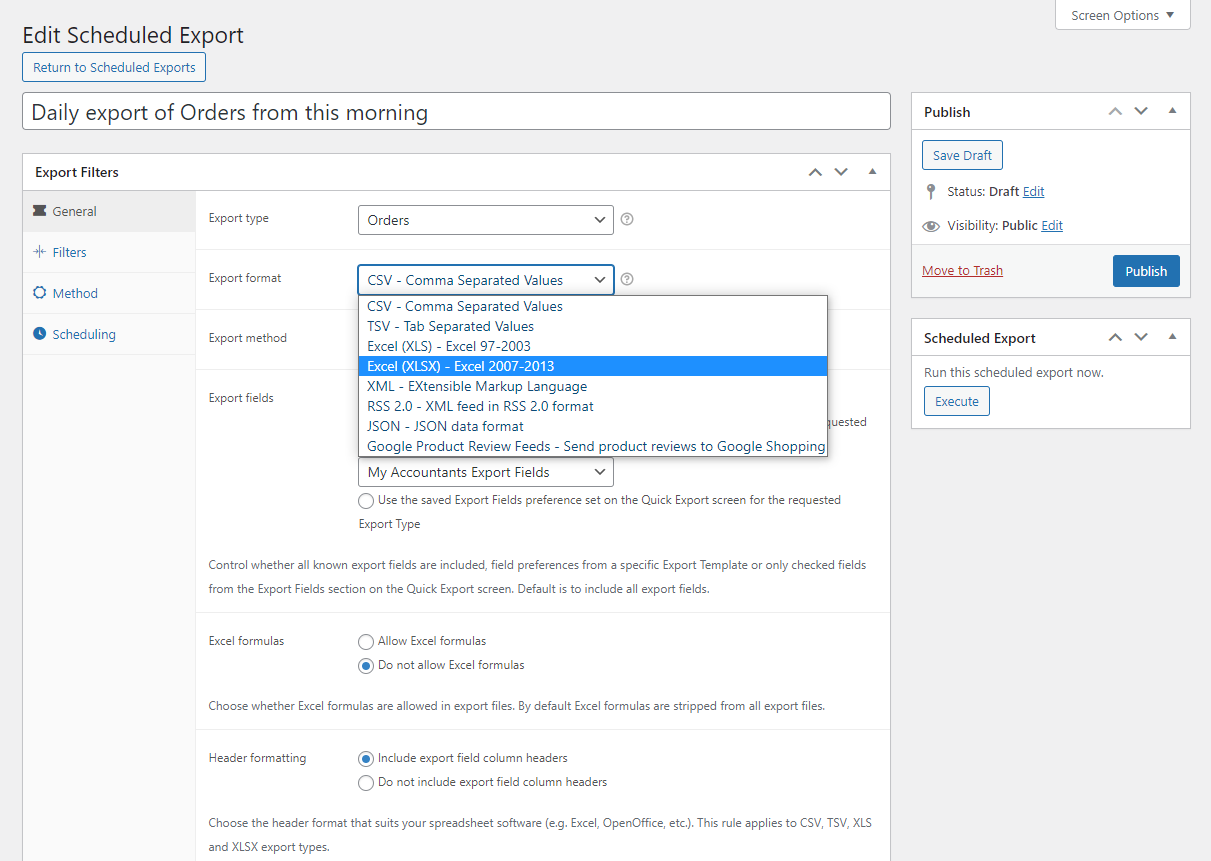 Native export support for 125+ WooCommerce Extensions
WooCommerce Subscriptions
WooCommerce Product Add-ons
All in One SEO Pack
Advanced Google Product Feed
Gravity Forms
Sequential Order Number Pro
WooCommerce Brands
WooCommerce Bookings
WooCommerce MSRP Pricing
WooCommerce Checkout Manager
Checkout Fields Manager
Per-Product Shipping
Ultimate SEO
Yoast SEO
WooCommerce Checkout Manager Pro
WooCommerce Extra Product Options
WooCommerce Events
… and more free and Premium Plugins.
Compare free and Pro features. Why go Pro?
Pro
Free
Overview
Automation Features

Schedule detailed exports to various destinations for real world use. Send your accountant or supplier recent new Orders automatically.

X
Customisable Export Templates

Manage the inclusion, ordering and labeling of exported details on a per-export basis.

X
Product Types

Filter Product exports to include specific Product Types like Variable and Variations but not External Products.

Advanced Filtering

All export types support detailed filtering capabilities enabling you to export just the WooCommerce details needed.

X
Native export integration with 125+ WordPress and WooCommerce extensions

Store Exporter Deluxe is the only WooCommerce export Plugin that supports native export integration with leading WooCommerce Plugins. If the WooCommerce extension is activated, we detect it and show available export fields and filters.

X
Premium Support

We are here to help you succeed using our Plugins. Expect prompt, honest and detailed support when you need it.

X
Export Filetypes
CSV
TSV
XLS (Excel 97-2003)
X
XLSX (Excel 2007-2016)
X
XML
X
View all features
Meet our happy customers
Trusted by WooCommerce store owners, developers and professionals.
One of the best support we'd ever get!!!
Very fast response (Cpt. Kirk would say Warp speed) :-) No, really, thanks for helping us in a fast and successful way. best regards from Germany
Rolf Richter ★ ★ ★ ★ ★
Good plugin. I recommend!
Very handy for updating many prices on its website. The support is excellent. I had a special request and the support was very responsive in finding the solution.
Hoguin ★ ★ ★ ★ ★
So pleased with this Plugin as it delivers everything it promises.
Very happy clients as they are able to export whatever data they need easily.
Jaynie ★ ★ ★ ★ ★
Definitely recommend this Plugin.
Really happy with the plugin and the support provided by Visser Labs.
Indigo Johns ★ ★ ★ ★ ★
Thanks Visser Labs!
Great Plugin and even better support!
Alex ★ ★ ★ ★ ★
Thank you for this great product
Wow!!! - where to begin.- you are AWESOME!!!! 1. One of the best support after a plugin was purchased 2. Amazingly fast response time on tickets/mails 3. Insanely patient and kind And the plugin works better than I thought.
Dorette ★ ★ ★ ★ ★