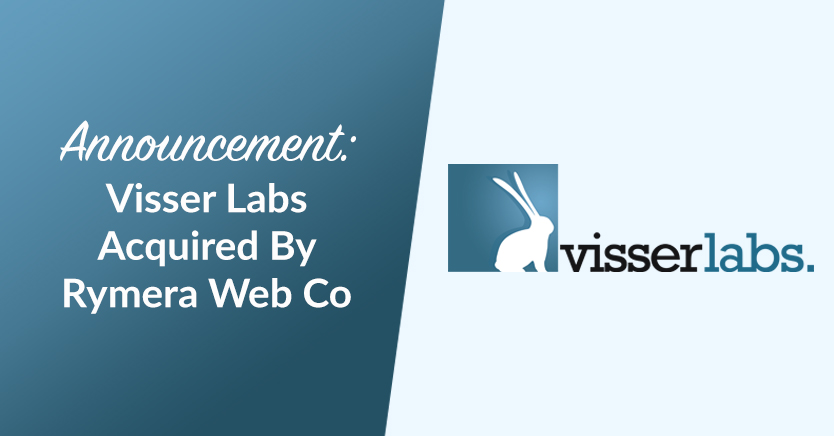 Hi everyone, my name is Josh Kohlbach. I'm the CEO of Rymera Web Co.
We are beyond excited to announce we acquired Visser Labs and all its plugins from the original owner Michael Visser back at the end of August 2023.
Let me tell you a short story:
Once in a while, stories align and paths cross in unexpected ways.
In some ways, it feels a bit surreal to be writing this. After all, I was a customer of Michael's back in 2014 when I first started my web consulting company, purchasing Store Exporter for a WP e-commerce project.
But, it's even stranger than that, we had also crossed paths in multiple ways without realising it. Michael and I both grew up in Brisbane, Australia. We both have a keen interest in all things web. And we both gravitated to WordPress and e-commerce in particular. At one point, we even both worked at the same company here in Brisbane, just at different times; he left the position and I joined that company to replace him!
So, what are the odds that my company Rymera Web Co would end up acquiring his WordPress business? It seems based on history, pretty high actually!
Earlier this year, I saw his import and export plugins were starting to go without updates, so I reached out to see how things were on his end.
Turns out he had taken a sabbatical, moved halfway across the world, and started a family. Congrats Michael!
I'm happy to still be very involved in the WordPress community and in particular, WooCommerce, but ultimately, Michael decided he wanted to move in another direction.
What Does This Mean For Existing Customers?
You might be wondering, with Rymera Web Co taking over Visser Labs, what will happen to my account? Can you still download your plugins?
The short answer is: yes, of course!
When we look at acquiring a company we always think about the existing customers and what they will think about it and want from us as the new owners. I'm happy to say that all the existing access that you had prior to the takeover will continue. If you were an existing subscriber, that will continue under Rymera and doesn't require any changes from you.
But, you might notice a few changes and improvements start to happen. In the coming months, we'll be revamping the site and bringing the plugins up to scratch with the latest WordPress, WooCommerce, and PHP technologies.
And you'll also be happy to hear we are boosting up support to previous levels. Michael had taken a much-earned sabbatical after many years of supporting and working within the WordPress industry, but unfortunately, this meant some support tickets went unanswered for a bit. We're hoping to correct course and start delivering on this front again. If you're a customer, our team would love to hear from you 🙂
What's In Store For The Future Of Visser Labs?
We're hoping to still operate under the Visser Labs brand which has brought innovative solutions to the WordPress ecommerce community for years and years.
Bringing things up to scratch (HPOS, PHP8+ support, and tidy-ups)
The first order of business is to integrate all our amazing team's processes into the Visser plugins.
As part of this first pass, we're going to be auditing everything. This includes WooCommerce Store Exporter (including the Deluxe version), WooCommerce Product Importer, and Store Toolkit as well.
We'll be making the plugins compatible with HPOS, WooCommerce's upcoming high-performance order system which finally gives WooCommerce separate order tables. This is really important for our Store Exporter in particular which deals with Orders and Subscriptions.
And lastly, we'll be making everything compatible with PHP version 8.0+. We noticed a lot of enquiries about this over the past 6-12 months and honestly, this was a big reason we reached out to ask Michael about his plans in the first place. We want to ensure the plugins stay stable and work with the latest PHP and related technologies.
Website & license system changes
As I mentioned briefly before we plan to refresh the site and organise all the information collected here over the years. There's quite a lot of great stuff we have in the archives we want to bring forward in a comprehensive knowledge base.
Additionally, we want to make the licensing, downloads, and My Account area easier to access and find so you can get access to your tools quickly.
Announcements & communication
Keep your eyes peeled for our announcements here on the blog and we'll be contacting our customer database via email over the coming weeks and months as these updates start to go out. Keep an eye on your inboxes!
We're looking forward to serving you under the Visser Labs brand for many years to come!
Kind Regards,
Josh Kohlbach
CEO of Rymera Web Co